Spotify's end-of-year "Wrapped" campaign combs through user listening habits, from music to podcasts, and uses the data to analyze trends in pop culture. Acting as a dialogue kickstarter for friends to share their personal music taste, the "Wrapped" campaign created a massive buzz on social media as people compare, contrast, and show off their listening stats.
The 2021 "Wrapped" campaign tells the story of a society trying to return to normalcy, but finding that there truly is no such thing as normal – and that's something worth celebrating.
"On Spotify, 'normal' is whatever you listen to, however you choose to listen to it. We have never been one-size-fits-all and that's what has always made 'Wrapped' so compelling—it's all about you," said Alex Bodman, Global Executive Creative Director at Spotify.
In the Spotify app, when you click on "Your 2021 in review," you'll find a narrative-driven breakdown in story format featuring your top artists and songs, total minutes spent listening, songs you had on repeat, your range of music genres, and even cool, new features like "your audio aura" and "two truths and a lie." For your top-played artists, you can even see where you fall into the top percentage of listeners for that artist, providing the ultimate bragging rights for being a top-tier fan.
With shareability at the center of Spotify's year-end campaign, the in-app experience encourages users to share their findings on TikTok, Snapchat, Instagram, and Facebook using the hashtag #SpotifyWrapped. "Your 2021 in review" became available on the Spotify app on December 1 – two days ago – and the hashtag is currently trending on Twitter, has 9.6 billion views on TikTok, over 170,000 Instagram posts, and over 49,000 posts on Facebook. 
The Spotify "Wrapped" campaign runs in 33 markets globally across traditional and digital OOH, CTV, online video, social media, and web.
Spotify took to the streets with their witty out-of-home campaign, playing with ideas of "normalcy" in an obviously not normal world. The OOH ads poked at the listening habits of billions of users, taking a stance on pop culture trends.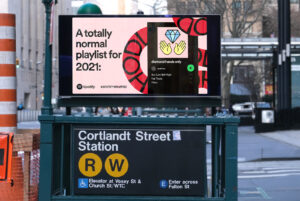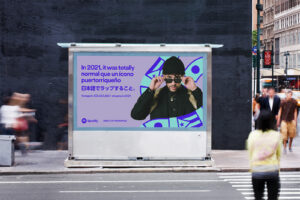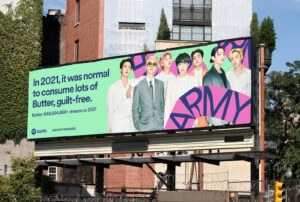 Besides the in-app experience and OOH campaign, Spotify also created a series of short videos showcasing what the "new normal" means in relation to music artists. For example, did you know that Billie Eilish appeared in 265+ playlists dedicated to gardening – a pastime that has exploded since the start of the pandemic? Another video features Doja Cat and extraterrestrial podcasts.
Spotify's year-end campaign emphasizes how personal data like music preferences can be used to generate meaningful online conversations, as users rapidly share their findings to flex their tastes.