This year, 750,000 people flocked to California for one of the largest events in music, art, and culture. Coachella unites a huge variety of music lovers for the multigenre, two-weekend festival and provides major opportunities for brands to establish a presence with a younger, experience-motivated, and music loving crowd.
This year, we saw exciting experiences from a variety of big brands including Absolut, HP, Lays, Heineken, and many more.
Absolut
Absolut.Land combines the real world with the metaverse, allowing festival-goers who visit the Absolut tent at the festival to interact with avatars, virtually bartend, and give out wearables and other prizes in the metaverse. Inside the virtual Absolut.Land, you can dance on an anti-gravity dance floor, explore an art gallery, and visit the third floor Pride room, which offers special wearables and opportunities to share on social. Hidden bottles and fruit unlock special cocktail recipes and prizes in the metaverse. 

CMO of Pernod Ricard North America, Pam Forbus, said the activation is part of an overall strategy to link the brand with Coachella, as they are the official vodka of the festival. "What I'll be watching for most is how we can encourage social interaction both in real life and in the metaverse and between the two worlds. I think that's really unique," Forbus said. "And I'm going to be on the ground every day watching it and seeing how it works."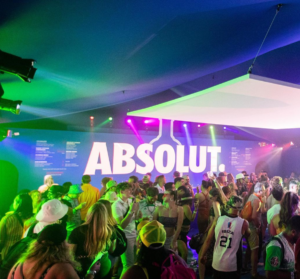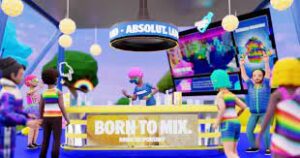 HP
The HP Antarctic Dome at Coachella gives nine digital artists a platform to share their work in a stunning 360-degree audio/visual installation. Festival-goers can take time away from the heat and off their feet to sit back and enjoy the immersive experience inside the massive geodesic projection dome. The short VR film, titled REGEN, is a sensory journey about regeneration and Mother Earth, which is synched with music from the new ODESZA album. 

According to HP's website, their "goal was to position its brand at the apex of music, art and technology, with product innovation underpinning all three. By establishing a presence at Coachella, HP looked to elevate its overall brand perception and ultimately drive purchase consideration of HP products."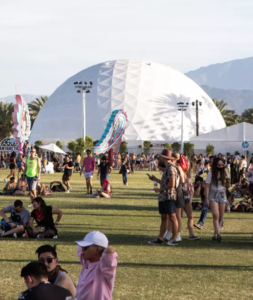 Lays
Festival-goers who make a reservation in advance can enjoy a four-course tasting experience inside the Lays "Potadomes" at Coachella. The experience is part of an effort to promote the brand's new 100% compostable, sustainable packaging. Within the domes, you can explore Speakeasy Spuds stations which are inspired by different genres of music, see a DJ at Crunch Studios, check out high-tech lighting in the Golden Glow dome, and combine exciting flavors with pop music at the Flavor Pop area. Besides offering special tastings in the Potadomes, Lays is also hosting a sampling room within general admission.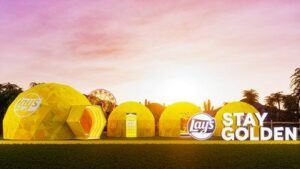 Heineken
The Heineken House hosted exclusive sets from exciting artists at Coachella, connecting the Heineken brand with festival-goers through music and brews. The area included Insta-worthy photo ops, an expanded beer garden, and special seating areas with nearby food vendors. Focusing on delivering a stacked lineup was a smart strategy that kept the Heineken House on people's minds at Coachella. 

"This year's festival is all about bringing people together for an experience unlike anything else," said Christine Karimi, Senior Manager of Partnerships and Consumer Experience at HEINEKEN USA. "If we've learned anything over the past two years, it's that spending time together is a gift we need to celebrate. Showing the importance of these unique and unforgettable moments through a creative lens was key to bringing festival-goers the most incredible Heineken House experience yet."